Review Submitted by Terry Herman (marriott_guy)


Casio of Japan, a successful electronics manufacturer, released their one and only video game console, the Casio PV-1000 in October of 1983 for 14,8000 yen ($129 USD). Debuting against the likes of the Sega SG-1000 and the Nintendo Famicom, this extremely rare and obscure system rapidly was an afterthought and not to be seen on video game store shelves shortly after its release.


The PV-1000 itself is not unattractive and the housing feels very well constructed utilizing thick, durable plastics. Dark-teal in color and rectangular in shape, the soft, curved molding culminates with the game cartridge tier. The front inputs are simple but elegant - two joystick ports are centered in the front of the unit face. The back features the same no-nonsense approach with the power connection and RF connectors anchoring the far left and right. The power toggle switch is located on the right side and there is a port on the left side of the system that resembles a PC connector of some sort (use unknown to me). Overall, the PV-1000 design is sleek, unobtrusive and modern compared to its counterparts.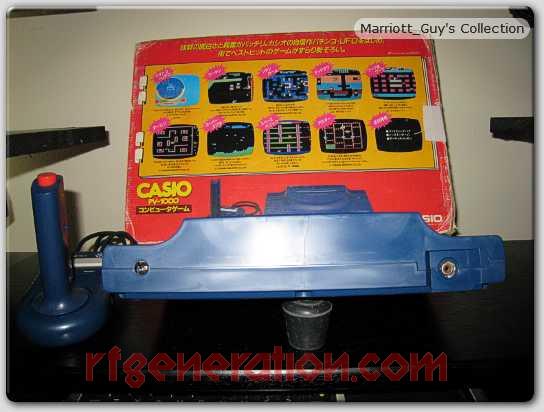 Powered by a Z80A micro-processor at 3.5Mhz and 2Kb of RAM, this engine was able to display games at a resolution of 256 x 192 pixels in 8 colors. Games were released on cartridges approximately the size of Nintendo Famicom carts. A total of 15 games were released for this system, mostly ports of earlier Casio releases for MSX compatible computers including Pooyan, Amidar, Tutankhamon and Dig-Dug. Overall video quality is comparable to the Colecovision. Game control is driven through a solid joystick featuring one (1) fire button at the top of the it along with a 'start', 'select' and a large auxillary button at it's base (packed in with the system). Casio also produced the PV-2000 in December 1983, which was a computer version of the PV-1000. Both the PV-1000 and PV-2000 joysticks are compatible though the game cartridges are not.


Overall, the Casio PV-1000 was a below average system when it debuted and met its demise quickly. This is an extremely rare item and only recommended for the ultra-serious console collector. This console was released solely in Japan for a short period of time. I do not have a recommendation for price since I have only seen one of these systems once for sale - the one pictured in this review. Be prepared to invest heavily if you do wish to pursue - games are just as scarce and pricey.